He said: Awesome Consiousness!!!!!!!!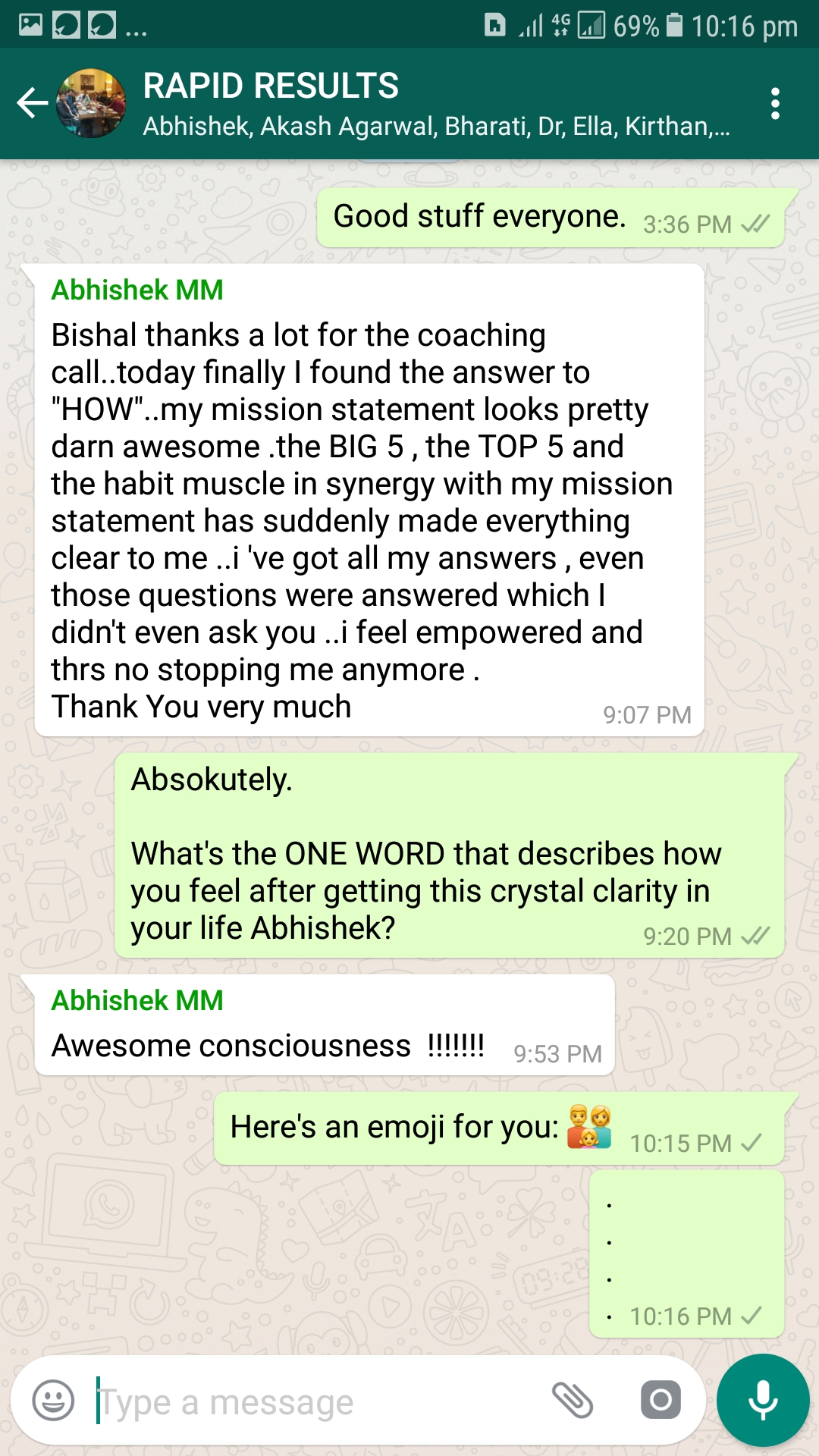 Reality is that most men lack clarity in their lives.

They work hard.

They do all things for their kids.

They bring the gifts for the wife.

They make all the sacrifices for the family.

But when they wake up in the morning, they do NOT have a purpose, rather they have a "to do list."

They start doing the work on the "to do list" that keeps them busy. But when they go to bed that night, most men wonder: "Did I ever truly live today? Where am I going in life?"

After 15 minutes of wondering & getting no answer, they finally think: "Leave it. I will think about it later, I need to sleep no because I have a lot of work tomorrow."

And this happens again.

And again.

And they never get that answer. So they keep working like a "well paid laborer" who is broken & empty inside.

Do you know anyone who goes through this?

Do YOU go through this?

When you woke up this morning, did you felt a sense of passion, purpose and excitement?

Or did you wake up to do the work for family and then office to clear the "to do list?"

Most men I talk to lack purpose in life.

I was speaking to someone like that recently. His name is Abhishek. He's from Mumbai. He works in a bank.

Abhishek is a brilliant guy!

He has attended my public speaking course in Bangalore last year and has massively improved his confidence and his speaking skills.

Previously he had stage fear and he used to stammer, but now he speaks like a boss!!! I am so proud of Abhishek.

He's recently been going through a bit of confusion in life (happens when you're in your 40s) and he lacked the ultimate motivation in life. He wanted the zeal, that energy, something big to look forward to instead of just doing the daily tasks on life.

Because he's a part of my RULE YOUR LIFE MASTERMIND (it's 24 Lacs to join, and currently we're no more accepting any new member because I am focused on serving the existing members), I got on a 1-on-1 call with him.

We spoke for about 45 minutes and here's the message he sent me inside our private "client-only" group called RAPID RESULTS where people share their daily progress so I can hold them accountable.

See Abhishek's message here: www.BishalSarkar.com/Screenshot_20180126-221658.jpg

It's so so sooooo inspiring!

A powerful conversation can change your life.

You may not be in a position to join RULE YOUR LIFE MASTERMIND even if I opened the doors in near future. I set the bar high so not everyone can enter here.

But you can get my personal help in installing rock-solid confidence and my guidance in helping you live with confidence.

I am excited! What about you?
Public Speaking Bangalore
Bishal Sarkar
Bishal Sarkar Public Speaking Review
Bishal Sarkar Public Speaking Course
Bishal Sarkar Blog
Practical Public Speaking Course in Bangalore
Practical Presentation Skills Course in Bangalore India
BEST Practical Public Speaking Course in India
The Confident Expert
Overcome Stage Fear
THE CONFIDENT EXPERT Daily Mentoring
THE CONFIDENT EXPERT Live Experience
Bishal Sarkar Course Review