Bishal Sarkar's Embarrassing Moment with Spontaneous Speaking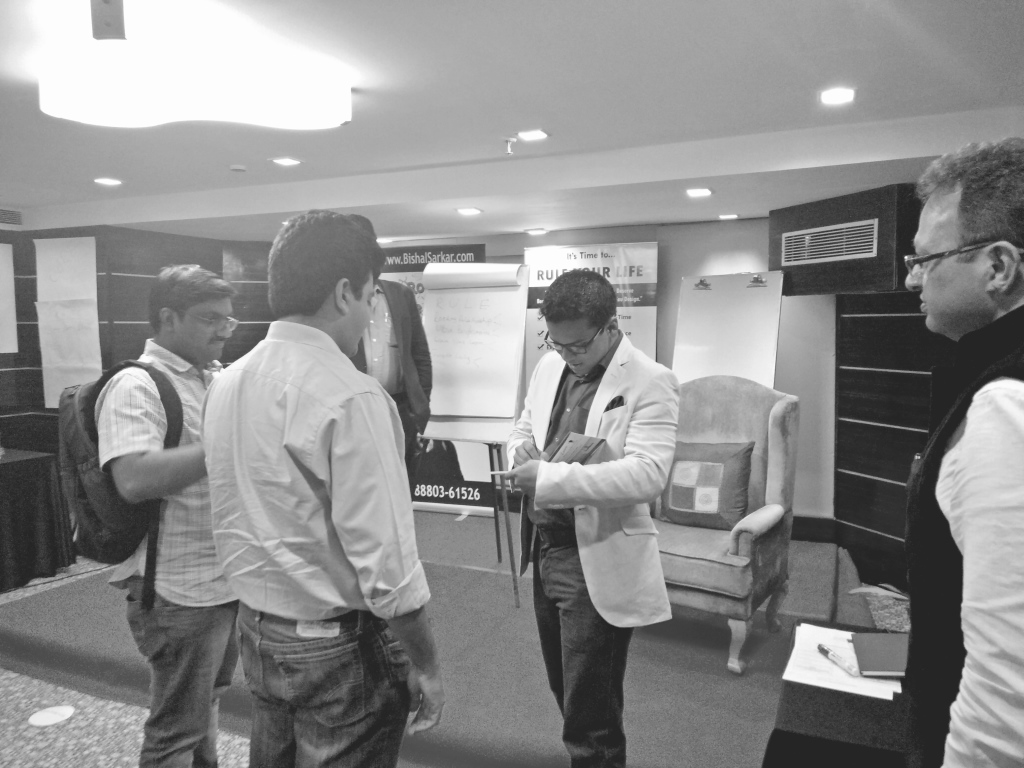 I remember many years ago there was a time I was speaking in front of 350 people and I knew my presentation very well.
I got on to the stage and did opening of my presentation. Everything was going well. people were laughing and then one lady her name was Bindiya (I came to know her name later on), she stood up and she raised her hand actually for a question.
I said "sure."
And she asked me a question and I knew the answer but I didn't have the confidence to form the answer on the spot in that split second because when somebody is asking a question suddenly, you don't get to have 15 seconds of time to think, you don't say, "okay let me think about for 15 seconds, I don't know", you can't say that.
You make the answer right now but that day somehow I couldn't answer on the spot, though I knew the answer.
I remember looking at Bindiya and saying"I will get back to you; I'll take it offline."
And I remember the moment Bindiya sat down, she didn't have the same level of respect for me anymore I could see that in her eyes.
In fact, when I looked at everybody, nobody else had that much of respect for me anymore as a speaker because they knew that because I couldn't answer on the spot. I lost my trust that I had built with them.
I don't want the same thing to happen to you.
Look, the thing is from that year till today I can speak on any topic anytime in national park, in safari park, anywhere. But that's not the point.
The point is you, because I don't want you to be in that situation in your life where somebody asks a question and they don't get the answer.
I want you to be a spontaneous speaker and that's the reason I don't want you to go through the embarrassment, and the pain and the struggle of not being a spontaneous speaker.
I encourage you to reach out to us and discuss with us about your challenges about spontaneous speaking so we can do a public speaking diagnosis for you and prescribe you a solution that will give an instant relief and a permanent relief.
Reach out to us and whatever you do don't go through the same example.
By the way now we are friends with Bindiya and she now respects me as a speaker because I have improved my spontaneous speaking skills.
My name is Bishal Sarkar, always reminding you that:
"Public speaking is not about perfection, it's all about connection."
About the author: Bishal Sarkar, internationally known as "The King of Confidence" and popularly known as "Mr. PRACTICAL" in his inner circle, is called the best motivational speaker of Bangalore India. Bishal is the creator of "ROCK THE STAGE" (The Best Public Speaking Course in Bangalore) where he teaches the participants the step-by-step easy-to-follow process of public speaking success. He regularly speaks to professionals from corporate groups, and trains people from various walks of life and brings out the POWERFUL men within them. As the author of the book "I Love Public Speaking", Bishal now teaches professionals how to overcome fear of public speaking and deliver powerful presentations using the proven formula of speaking & presentation success, through his most practical public speaking courses in India & communication skills classes in Bangalore. He also helps aspiring speakers by teaching themHow to become a motivational speaker in India. People say that he has designed the best presentation skills classes & public speaking workshops in Bangalore. For enrolling in Bishal Sarkar's ROCK THE STAGE, apply on this page.
© Bishal Sarkar- "The King of Confidence"
India's Public Speaking Expert
Public Speaking Bangalore
Public Speaking Courses in Bangalore
Public Speaking Training in Bangalore
Public Speaking Classes in Bangalore
Practical Public Speaking Courses in Bangalore
Best Public Speaking Course in Bangalore
Confident Public Speaking Tip
Public Speaking Bangalore
Public Speaking Course in Bangalore Indiranagar
Public Speaking Workshops in Bangalore Indiranagar
Overcome Stage Fear